Be More Monday – Kris Fabrizius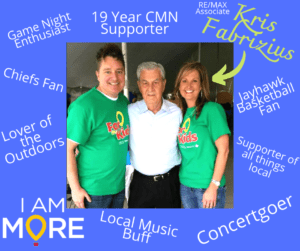 Happy Monday, Kansas City! We are excited to introduce you to a woman who has been a champion for Kansas City kids for 19 years, Kris Fabrizius! When she isn't helping people find home sweet home as a RE/MAX associate, you can find Kris spending time with friends playing games or listening to a local band!
One thing to know about Kris is that she loves being outside. Whether it's cheering on the Chiefs, attending any live sporting event, or supporting local musicians she prefers to be outdoors. She is passionate about making memories by attending events and being part of the community.
If she has to be inside, you can count on Kris to coordinate a game night, or find her listening to an audiobook.
Kris has a huge heart for her community, and we are so honored that she chooses to share her talent and passion with Children's Miracle Network.
When asked what her favorite part of CMN is, she shared "Hearing a Child say "thank you for helping me". I have attended several events when a Miracle Kid is present and speaks..(usually leaving the audience in tears).. Hearing their story and the appreciation for funds to help them and their families by CMN… heartbreaking, but rewarding at the same time. Knowing I am doing to help someone hopefully have a better life is priceless."
On behalf of the many families whose lives are better because of you, thank you Kris!